The EU has issued a series of directives to investors and developers to reduce the cost of meeting its target to provide 95% of UK citizens with a 30 Mbps or faster connection of broadband by 2017.
New builds and major renovations of buildings will need to be completed with a broadband infrastructure, although exemptions will be allowed for historic buildings, holiday homes, isolated buildings and when the cost of compliance would be disproportionate to the benefit gained.
Developers have been instructed to install mini-ducts to all buildings as part of rules designed to make it simpler to build superfast broadband networks. Such buildings will also be required to have a "common access point", where broadband providers can connect to an internal infrastructure.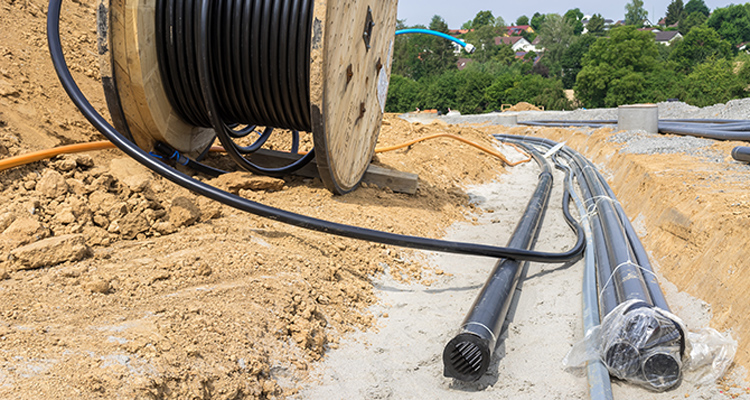 The Directive Includes the Following Provisions
Access to existing infrastructure
Every network operator – that is, telecoms operators or undertakings active in other sectors, such as electricity distribution or waste water treatment – will have the right to offer telecoms operators access to its infrastructure for the purpose of broadband installation. Network operators will have the obligation to meet all reasonable requests for access to their infrastructure as provided for in the directive. Possible grounds for refusal include technical unsuitability, safety, public health or network security.
Access to infrastructure information
In order to be able to effectively plan the deployment of high-speed broadband, telecoms operators will have the right to access, via a single information point, the following minimum information concerning an infrastructure: location, route, type and current use, and a contact point. Similar information would be available about planned infrastructure work.
Where this information is not available via the single information point, the telecoms operators may request it directly from the network operator.
If the question of access to information gives rise to a dispute, any party may refer the case to a national dispute settlement body, which will issue a binding decision. This does not affect the possibility of any party to refer the case to a court.
Coordination of civil works
Network operators will have the right to negotiate agreements on the coordination of civil works with telecoms operators for the purpose of broadband deployment.
If no agreement on such civil work coordination is reached within one month, any party can refer the issue to the competent national dispute settlement body. While the parties must cooperate fully with the dispute settlement body, any party also has the possibility to refer the case to a court.
Dispute settlement bodies and single information points
The tasks of the national dispute settlement body may be undertaken by one or more competent bodies. Similarly, the functions of the single information point may be performed by one or more national, regional or local-level bodies.
Member states may allow these bodies to charge fees to cover their costs.
New buildings
All new buildings – and those undergoing major renovation – for which applications for building permission have been submitted after 31 December 2016 must be high-speed ready. Member states may provide for exemptions where this would lead to disproportionate costs and for specific types of building such as historic buildings and holiday homes.
"Broadband-ready" label
Member states may choose to introduce a voluntary "broadband-ready" label for buildings with high-speed access.
Property rights
The telecoms operators' rights to access physical infrastructure under this directive are consistent with the normal exercise of property rights, that is, the rights of the owner of the land or of the building in which the infrastructure is located.
—
Fulfilling this directive will reduce the cost and labour of creating a superior digital economy for the whole of the UK and non-compliance could affect a buildings value and marketability.
To keep expenditures to a minimum, utility companies that have ducting in place could now potentially be expected to share their networks, and innovative designs to utilise current systems could be the key to meeting the government's superfast broadband targets. Many new builds are already being designed with in-building ducting for broadband access and termination points. However, for some investors and developers, renovation of older buildings not designed with space for a broadband infrastructure could prove more costly and challenging.
Contact London Building Surveyors
If you would like to contact London Building Surveyors please click here.