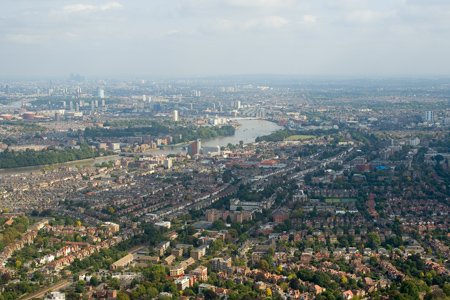 In the months that have followed the UK's shock decisions to leave the EU, the London housing market has endured a series of shakes that have proved its resilience. Despite an overall fall of 0.3% in house prices this month, this is actually the smallest drop in six years and during a month that analysts claim is a traditionally quieter time of year. In contrast to this, house prices in London's more affordable eastern suburbs and outskirts have skyrocketed by up to 20% per year.
The areas that have benefited from the biggest jump are favoured often by first-time buyers, including Newham, where average prices saw the biggest rise by 20.3% to £371,139, and Barking and Dagenham, where prices are up by 19.3% at £290,583, according to the Land Registry.
However, in the most exclusive and most expensive boroughs of central London, the housing market remains sluggish, with the biggest annual fall in average prices in Hammersmith and Fulham. Costs are down 2.9% to £757,131, the fifth biggest annual drop of any local authority area in Britain.
Yet, as a whole, the capital seems to be far from losing momentum in the cut-throat housing game, enjoying a healthy overall 10.9% annual increase. Jonathan Hopper, managing director of home buying agent Garrington Property Finders, said: 'The conclusion is clear — four months on from the shock Brexit result, and the sky has resolutely refused to fall in. In fact, annual rates of price growth remain comfortably above where they were a year ago.'
Why have prices soared in suburbs and stagnated in the centre?
A question best answered by all-time low mortgage rates. In August, the Bank of England decided to drop its interest rate to an all-time low 0.25%, reducing the cost of borrowing for home buyers to previously unseen levels. With the average two-year fixed rate standing last month at 2.34%, a new record low, while average five-year deals are below 3% for the first time, the demand for homes in London's 'affordable' suburbs is booming.
On the other hand, prices of London's most expensive central properties are continuing to flatline, partly due to the huge stamp duty burden on properties worth over £1 million. However, this could be set to change if the pound continues to lose its value against foreign currencies, increasing the appeal of London homes to overseas buyers.
Barking and Dagenham – the place to buy
While Havering, Croydon and Redbridge all also saw increases between 16.5 – 18.6%, Barking and Dagenham saw the biggest rise. The in-between land of the city centre and Essex countryside is a hotspot for first-time buyers, with four out of every ten properties being sold to those making the initial jump onto the property ladder. While prices are soaring, the average flat is still less than £200,000 and family homes are available for under £350, 000. Accessible transport links and good schools are also contributing towards the areas popularity with families.
Barking will also see one of London's biggest regeneration schemes at Barking Riverside over the next few years, with up to 10,000 new homes being built along the north bank, just 12 miles from central London. The development will also include a marina with a riverboat service to the centre, bars, shops, public squares and a waterside promenade.
The Autumn Statement
Good news for the London housing market was revealed in the Autumn Statement with £3 billion announced as London's share of national affordable housing funding.
The chancellor, Phillip Hammond, revealed plans for a £2.3 billion housing infrastructure fund to build up to 100,000 new homes in areas where demand is high.
Future Predictions
Based on predictions, the future looks bright for London's housing market. Property consultants, JLL, attempted to chart house prices until 2032 based on research. Their finds show that by next December prices in Barking and Dagenham could rise to £433,469, earning owners £21,000, while prices in Kensington and Chelsea may shoot up to an average of £1.4 million.